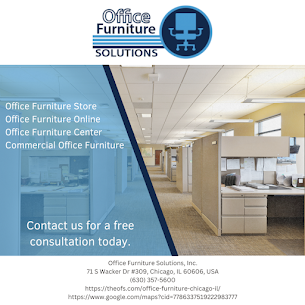 Office Furniture Solutions (OFS), a full-service solution for office furniture, is proud to announce the expansion of its operations into both Lincolnwood and Cicero, IL. This expansion serves to further expand OFS's already considerable reach throughout Chicagoland, providing an even greater number of businesses with access to the top-quality office furniture solutions that OFS specializes in.
Since its founding over 10 years ago, OFS has been focused on providing businesses with essential furnishings that deliver on performance and value. With their new expansions, OFS will have a direct presence in two additional cities, allowing them to provide even faster delivery and installation times as well as specialized services such as space planning and moving services. As always, OFS's offerings come from a wide selection of commercial office furniture manufacturers – enabling them to provide quality solutions that fit any business' budget.
At the helm of OFS is Phil Ramos. That's something he takes great pride in: "We understand that how you furnish your space can make or break your business. That's why we are proud to offer superior products backed up by our strong commitment to customer service excellence."
To internalize this sentiment further, one needn't look any further than OFS's extensive array of used office furniture options – coming complete with loads of chairs, desks, cubicles, and more. What's more? By buying from OFS, you are helping divert up to 300,000 lbs of waste from landfills each year – thanks to their buy-back and removal services for all used products purchased through them. And if you're looking for other ways to furnish on a budget? They also offer re-surfacing painting services and fabric upgrades for an added touch of class without breaking the bank.
As Phil puts it: "We source top quality materials that we know will last while offering extremely competitive prices – we're here to help businesses succeed, not break their banks."
With their new expansions into both Lincolnwood and Cicero, IL., Office Furniture Solutions continues its mission of providing businesses within Chicagoland with superior furnishings backed up by world-class customer service excellence – saving time and money in the process.
OFS works with dozens of different commercial office furniture manufacturers and can provide quick delivery when needed thanks to their in-stock products. They understand that businesses have limited budgets and strive to create custom designs tailored to each individual customer's needs while staying within their budget parameters. Additionally, they provide space planning services as well as delivery, installation, and moving services – ensuring that businesses get exactly what they need for the best value possible.
"At OFS, our mission is simple: To make life easier for our customers by providing them with quality office furniture solutions at an affordable price," said Ramos. "No matter what size your business or budget is – we have something for everyone."
Lincolnwood and Cicero residents can rest assured knowing that Office Furniture Solutions will always be there with the highest quality products at competitive prices when it comes time for them to furnish their homes or workspace. For more information on Office Furniture Solutions' expansion into Lincolnwood and Cicero or on any of their other offerings, please visit https://theofs.com/ or call 630-357-5600 or email [email protected]. The Office Furniture Solutions is located at 71 S Wacker Dr #309, Chicago, IL 60606.
https://theofs.com/wp-content/uploads/2022/12/NjTXxpjQXlM9imYJ5WnbRMBJoFENcQKXpV62vp2E-1.png
305
305
Yoa Team
https://theofs.com/wp-content/uploads/2023/01/Office_Furniture_Solutions_FINAL_Website1-340x156-1-300x138.png
Yoa Team
2022-12-29 00:00:00
2022-12-30 01:29:54
Office Furniture Solutions Expands Service Offerings in Lincolnwood & Cicero, IL